Welcome to Inkspot Antiques & Collectibles
Visit us also on

as inkspot-antiques. Please also visit our Shop.

Home Bottle Identification Glassware ID Links Ceramics ID Links
Antique References Antiques Glossary and Definitions Sitemap

Collecting Vintage Gasoline Service Station Maps and Other Road Maps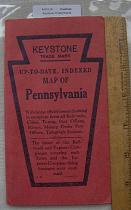 This early "Keystone map of
Pennsylvania is similar to many
city street maps, and was also
useful to businesses shipping
around the state because it
identified express company
shipping routes.
View.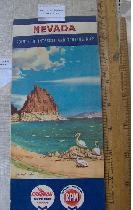 This 1958 Road map produced
by Chevron has a nice artistic
rendering of Pyramid Lake
Nevada, showing pelicans and
rock formations.
View.
Our Favorite
Guides
Types of Road Maps
There are four basic types of road maps you are likely to come across. First there are city street map directories. These are detailed maps showing every known street in a community, often with a matching index and grid system to locate any street in a city. These maps were especially useful for businesses in the community. These maps stretch back to the 1800s and earlier for larger cities, but were commonplace by the 1920s for all medium size cities.
Then there are the service station maps. These are the most common type of road map you can find. The first free road maps were handed out at the first modern service stations, in 1913. These maps did not actually become widespread until the 1920s. Free road maps were handed out by service stations until the 1973 oil embargo caused fuel shortages, higher prices, and increased competition among service stations.
Another common road map you can find are the State Highway Department tourisms maps. These "Official" highway maps were often place at tourist centers on major highways to promote local attractions and the spending of tourist dollars. They also provided plenty of space for Governors to promote their accomplishments for their next election. These maps were most common during the 1960s, 70s, and 80s.
Finally the automobile associations produced maps for their members, but these are not commonly found until the 1940s. The American Automobile Association (AAA) maps are the most frequently encountered, and are especially abundant after 1970.
These four groups are a not the only kinds of road maps that you can find. For example, in the late 19th century, bicyclist enthusiast groups, such as the League of American Wheelmen, developed some of the first road maps published in the United States. You may also find early "strip maps" that detail the route between two cities. These were the precursors of the "Triptik" maps of AAA.
In General, road maps between cities were uncommon before the 1920s. Why? A major problem with all road maps before that time was that streets were rarely marked. It was not until automobiles became more widespread that both street maps and road signs became essential. The posting of street signs was facilitated and paid for in some cases by companies with a financial interest in having good signage. It is therefore not surprising that during the 1920s and 1930s, companies like the B.F. Goodrich tire company, with its "Goodrich Guide Post" signs; and the Rand McNally map publishing company, paid for thousands of road signs across the US.
Service Station Map History
Originally gasoline for automobiles was purchased in barrels and brought home, or pumped out of a barrel at grocer or dry goods stores. The location of the first true drive up service station is in dispute. Some contend it was a Standard Oil of California station that opened in Seattle in 1907. Others contend that the first modern design service station was built by Gulf Refining Company in Pittsburgh, Pennsylvania in 1913. This Gulf Station was believed to have handed out the first free road map.
Some of the most rare and most historically interesting service station maps are those produced between 1920 and the end of World War II. In this golden age of service station maps, are some with superb art deco designs and old autos, and these command high prices. After the War, and especially with the expansion of federal highway system in the 1950s, and the widespread use of automobiles, we enter the silver age of automobile maps. This period includes maps with dynamic scenes, vibrant colors, and great graphics. After 1965, the quality of service station maps decline till their virtual disappearance in the 1980s.
As noted above, the service stations stopped handing out free oil maps with the 1970s oil crisis. By the 1980s, most oil companies even stopped printing maps branded with their company's name.
Sometimes you can tell the age of the map by the name of a service station. Esso became Exxon in 1973. Other service station maps, like Sinclair, Tydol, Flying A disappear from large portions of the country in the 1960s when they loose market share.
With today's high prices for gasoline, how do these prices compare to the real cost to consumers of different periods. Forty years ago, gasoline cost 50 cents a gallon, but that was also the approximate cost of a loaf of bread or gallon of milk. The graph below shows the actual average price at the pump since 1919 compared to the same prices adjusted to 2017 dollars, as adjusted for inflation. Up until 2008, we could always claim gas was cheap compared to historic inflation adjusted prices. In 2008, the inflation adjusted average annual price per gallon exceeded the previous record set in 1981 during the last worldwide fuel shortages. Since then, prices have shown considerable volatility.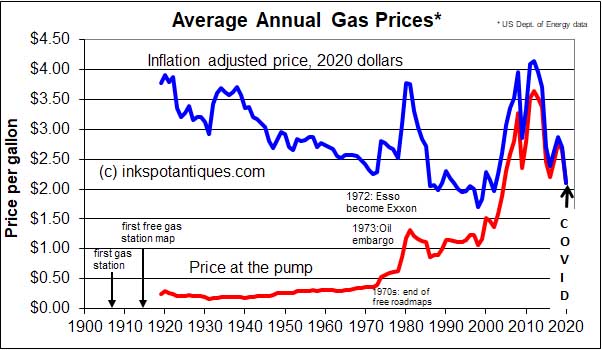 Collecting Tips
Old road maps offer a nostalgic glimpse to our past. Many older maps have great graphics and idyllic views of motoring during less harried times. They are also historic documents, showing the world before interstates and super highways, and locating popular destinations long gone.
Road maps are collected for many reasons. Some people use them to document local history, some assemble collections of rare service stations, and others assemble a complete station series for the US. Many gas station maps are cross collectibles. That is, their covers may coincide with other events, like World's Fairs, or because they show Disney characters, or because they reflect local historical events, like Civil War battles. As with all collectibles, buy what you like, or what interests you.
Grading and Condition
On our website, we use the following grading system for Road Maps: Fair: well used, may be marked, may have tears, holes, or creases. Good: used, but with no major damage, but may have a couple of small crease holes or pen or route marks. Very Good: very little evidence of use, may have a dog eared corner, crease, or minor pen marks. Near mint: generally with out evidence or use or any marks, may have a tiny dog ear or faint small crease. Mint: Looks like it was never used or opened, and just stored away. May have some yellowing depending upon the acid content of the paper. To all these grades we may add a + or F to indicate it is just above or below that grade respectively
We have lots of road maps for sale at our on-line shop's Road Maps page.
| | | | |
| --- | --- | --- | --- |
| A 1897 Wedgwood Etruria England transferware souvenir plate of Kings Chapel, Boston, Mass. View. | 1950s Tydol Flying A Cape Cod Road Map. View. | Old Chester, PA Great Leopard Skating Rink Pin Olympia Rink. This is a pin from a popular skating rink in Chester, Pennsylvania called the great Leopard. View. | 1958 Taos, New Mexico Vintage Chevron Road Map. Along with dozens of others ranging from Sinclair to Esso. View. |