Inkspot Antiques: An eclectic assortment of antiques and collectibles.
Great Seal Buttons
Great Seal Button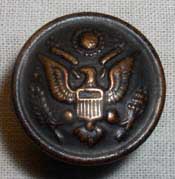 Great Seal Uniform Buttons of the United States
We receive many inquiries about Great Seal buttons. In 1902, the US Army issued an order that made all previous U.S. Army, state militia, and all separate army organizations obsolete: "One style for all arms and all grades, private to Lt. General. The only exception is the Engineer Corps, who are to retain their present design. Bronze for service and gilt for dress. The design is a copy of the great seal of the U.S." Any buttons of this design were made 1902 or later, irrespective of what the backmark may imply. Many dozens of manufactures provided buttons to uniform manufacturers. Below is a list of buttons we have found reported on various websites. Post World War II buttons manufactured by Scovill and Waterbury are common and are worth less than a dollar each retail in used condition. WWI buttons in well used condition might fetch a few dollars or more each, although some backmarks are uncommon and retail prices are higher.
| | | |
| --- | --- | --- |
| Backmark | Estimated production | Comments |
| A M & Co. 23 M PARIS | | |
| [Blank] [compressed fiberboard] | | Albert GI109.B |
| [Blank] [oiled cloth front] | | Albert GI109.D |
| AM. BUTTON CO *NEWARK, N.J.* | 1902 to 1917 | |
| AMERICAN BUTTON CO. *NEWARK N.J.* | 1901 to 1920 | |
| AMERICAN BUTTON COMPANY NEWARK, NJ.... | | |
| AMERICAN EMBLEM CO. UTICA N.Y. | WWI | |
| * [anchor] | WWII | |
| ARNSTEIN SIMON & CO. * S.F. * | WWI | |
| Art in Buttons U S U. S. A.[vegetable ivory] | | Albert GI109.E |
| ART METAL WORKS INC -NEWARK, N.J. | 1900 to 1930 approx. | |
| THE ART METAL WORKS, NEWARK, N.J. | | |
| THE AUSTIN CO. PROVIDENCE R.I. | | |
| B.PASQUALE CO., S. FRAN., CAL. | | In business 1854 to 1970's |
| BADGER MFG. CO. RACINE, WI. | | |
| BROOKS.BROTHERS *NEW YORK*ENGLAND | 1902 to 1910 | |
| C KENYON CO. NEW YORK | WWI to 1930 | |
| CHAS. FISCHER SPG. CO. NEW YORK | WWII? | |
| CHESHIRE BUTTON * CT. USA * | | |
| CITY BUTTON WORKS N.Y. | WWI | Made by Erlanger & Liebmann |
| CITY BUTTON WORKS NEW YORK | 1877 to 1923 | |
| COL BUT WKS RUTHERFORD N.J. | WWI | |
| COLUMBIA BUTTON WKS*RUTHERFORD,N.J.* | WWI | |
| CORD 22 | | |
| D. EVANS & CO ATTLEBORO FALLS | WWI | Company 1848 to 1944 |
| D. EVANS & CO. * NO. ATTLEBORO, MASS. [red paint on the back] | | Company 1848 to 1945 |
| D. EVANS & CO. N.A. | WWI | Reported found in France. Company 1848 to 1946 |
| D. EVAN'S & CO [red paint on the back] | | |
| D. KLEIN & BRO PHILA. PA. [copper finish] | | |
| DUSENBURY & SCHWAB INC. NEW YORK 229 4TH AVE. | | |
| E.A. ARMSTRONG MFG. CO. CHICAGO | | |
| FINE QUALITY | | |
| G J & F PARIS | | |
| GEMSCO, N.Y. | | |
| GREENWOOD CO * DETROIT MICH * | | |
| HBW [composition] | | Albert GI109.A |
| H W I SCHWAB INC NEW YORK | | |
| H.V. ALLIEN & CO. NEW YORK | | Company: 1877-1948 |
| HEIBERGER WASHINGTON | | |
| HORSTMANN *** PHILA *** | 1893-1935 | |
| HORSTMANN [dot] C [dot] PHILA [dot] | WWI | |
| W. H. HORSTMANN & CO | WWII? | |
| J.A.I. HAHN BALTIMORE | | |
| J.R. GAUNT LONDON | | |
| JACOB REED'S SONS * PHILA. * | | In business 1880 to 1983 |
| JACOB REEDS SONS PHIL. | | |
| JAMES C. DORAN & SONS PROVIDENCE R.I. | | |
| JEWELERS PRODUCTS CORP. PROV. R.I. | WWI | |
| THE J.E. MERGOTT CO. NEWARK, N.J. | | |
| JOHNSON * MILANO * | WWI | Reported made in Italy |
| KREMENTZ LIBERTY BRONZE | | |
| L.&R. METAL PROD. N.Y | | |
| L.A. MYERS. JR. INC. NEWARK N.J. | | |
| LUXENBERG NEW YORK MADE IN ENGLAND | | |
| MADE IN ENGLAND [anodized aluminum front] | | |
| MARSHALL FIELD & CO. CHIC ILL | | |
| MAURICE BOURDON [up arrow] PARIS | | |
| MAURICE BOURDON Name: [anchor] PARIS [anchor] | | |
| Morry Luxenberg/London | | Albert GI108.A.1 |
| METAL SPECIALTIES Co. ATTLESBURG, MASS. [painted black] | 1940 to 1945 | |
| S.N. MEYER WASHINGTON D.C. | | In business 1890 to 1925 |
| N.S. MEYERS * NEW YORK * | | In business 1906 to 2000 |
| I. A. MEYERS JR INC. NEWARK NJ | | |
| NEW YORK BUTTON WORKS | WWI | Reported found in France |
| [?] N.Y. [pressed vegetable ivory] | WWII | |
| R. LIEBMANN MFG CO | WWI | |
| R. LIEBMANN MFG. CO.-NEWARK NJ | | |
| R. L. MFG Co Newark N.J. | WWI to ? | |
| REX PRODUCTS CORP * NEW ROCHELLE, N.Y. * | 1902-WWII | |
| ROSENFIELD & RAPKIN * BOSTON, MASS. | | |
| S & J WATERBURY CT. | WWI | Reported found in France |
| SCOVILL MF'G CO WATERBURY [back ungilted] | WWI | 1850 to 1865 backmark |
| SCOVILL MF'G CO WATERBURY | WWI | 1850 to 1865 backmark |
| SCOVILL MF'G CO [dot] WATERBURY [dot] [shank not soldered, weak imprint] | WWII and later | possibly to 1970s |
| SCOVILL MF'G CO. * WATERBURY * | 1902 to 1918 | 1870s backmark? |
| SCOVILL M'FG CO. WATERBURY [ring of dots] | abt 1902? | 1860 to 1880 backmark |
| SCOVILL MF'G CO. WATERBURY CT. | WWI | 1870s to ? backmark |
| SHIELDS INC. ATTLEBORO, MASS. | | |
| SIGMUND EISNER RED BANK N.J | WWI | In business1859 to 1925. |
| S. EISENER CO. RED BANK N.J. | WWI | In business1859 to 1925. |
| STEELE & JOHNSON * WATERBURY CT * | WWI | Reported found in France |
| * SUPERIOR QUALITY * | | |
| SUPREME 172 QUALITY | | |
| TIFFANY & CO. MAKERS ** M ** [14K gold blazer] | 1907-1947 | |
| U.S ARMY STANDARD * | | |
| UNIQUE ART MFG CO. NEWARK, N. J. | | |
| US PRODUCTS CORP | | |
| W.B. CO. | | |
| WARNOCK UNIFORM CO *NEW YORK*[made from horn] | | Albert GI109.C |
| W W W W | modern | Waterbury |
| WATERBURY BUTTON CO. * | 1849 to 1965 | |
| WATERBURY BUTTON CO. *CONN.* | pre 1965 | |
| WATERBURY COS INC CONN | post 1965 | |
| WOLCOTT MF'G CO. PROVIDENCE RI. | | est. 1906 to after 1922 |
| ZELL PRODUCTS CORP. N.Y.C. | | |